WECO serves the olive oil processing industry with our OliveTek defect and foreign material sorter.
See Our Olive Sorting Equipment in Action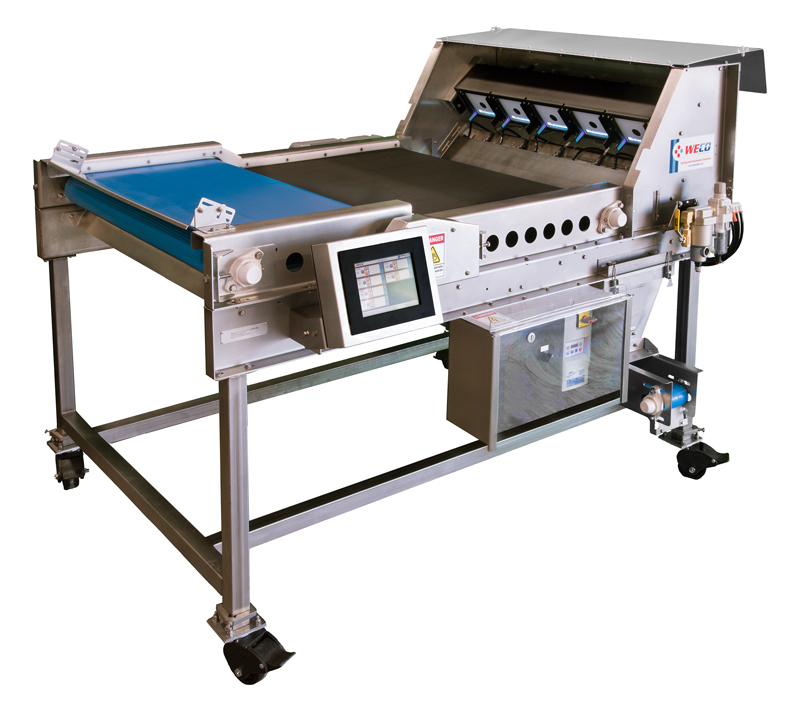 OliveTek Olive Sorter
OliveTek sorts and removes MOO (Material Other than Olives) and mummy berries using both the visible and non-visible (IR) light spectrums. The olives sorting machine is a single-view optical sorter that uses our new state-of-the-art ChromaxHD software. The OliveTek is currently available in two sizes to meet your needs:
40" (102 cm) wide model with 50-channel belt
64" (163 cm) wide model with 80-channel belt
Benefits of Our Technology
Our Chromax LED illuminator uses the latest state-of-the-art LEDs for the highest output, greatest reliability and most efficiency.
The Chromax LED illuminator has no moving parts, ensuring durability that is unaffected by rough treatment during shipping and operation.
The horizontally diffused illumination of Chromax LED sorters minimizes spectral reflections from shiny or wet objects, reducing color errors.
The full-color spectrum feature is modeled after human color perception, making our sorters easy to set up and fine-tune during operation.
Modular design means that if an optic module fails, a WECO technician is able to replace it within minutes, with no alignment or calibration required.
With controlled depth of field and excellent color calibration, our sorters do not require a background surface/roller that must be kept clean.
Low power specifications mean that energy-efficient WECO Chromax sorters do not require active cooling even in ambient temperatures over 100˚F (38˚C).