WECO Donates Optical Wine Grape Sorter for Research
---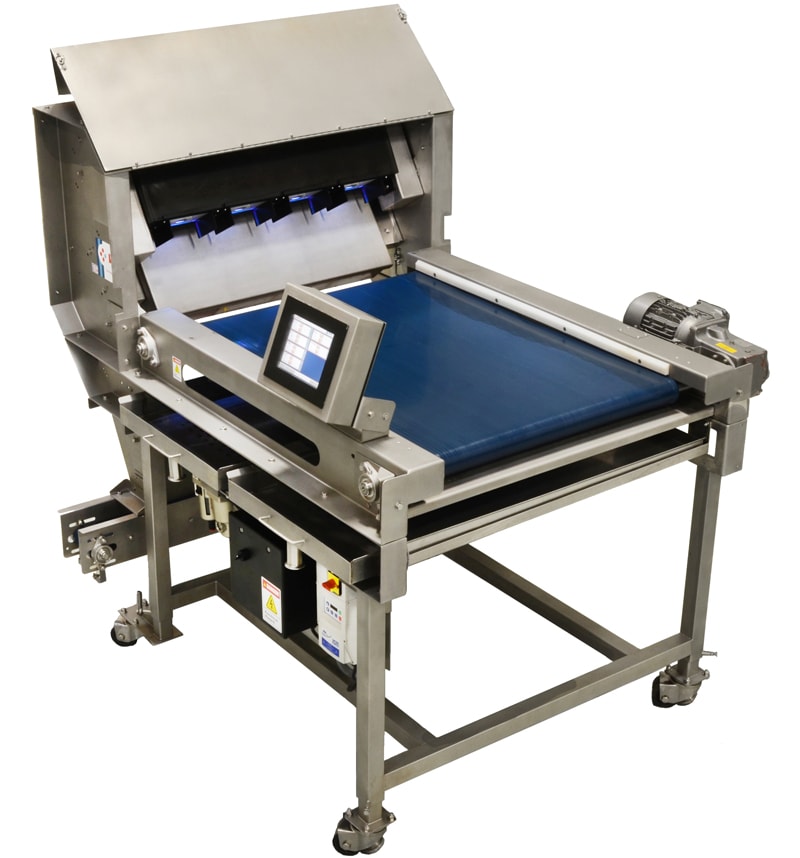 WECO donates optical wine grape sorter for research at UC Davis

September 13, 2016
WOODLAND, Calif. – WECO Sorting and Automation Solutions has donated a state-of-the-art optical wine grape sorter worth $71,500 to the Department of Viticulture and Enology at the University of California, Davis.
After stems are removed from grapes, the sorter removes all material other than grapes (MOG). It uses advanced cameras, LEDs (light-emitting diodes) and software technology to identify remaining stems, insects, unripe, damaged fruit and raisins. Unwanted items are removed with precise blasts of air, increasing quality and throughput while reducing labor costs.
"We are so pleased to be in a position to donate our WineGrapeTek Optical MOG Sorter," said Eric Horner, vice president of WECO (Woodside Electronics Corp.)  "We think the opportunity for students to be exposed to this technology during their education will provide a great understanding of the benefits."
Students working with latest technology
When asked how having a WECO Optical Wine Grape Sorter was beneficial to his students, Charles 'Chik' Brenneman, Winemaker at UC Davis's Department of Viticulture and Enology said, "The students benefit by being exposed to technologies that are being introduced in the wine industry. They gain practical experience in how to set up all the process equipment that surrounds the sorting unit and understand the mechanics of the process flow.  From a fruit quality standpoint, they learn the impact of removing bad fruit from the process stream as we ferment sorted, non-sorted and rejected fruit.  Because we are a teaching facility, the students actually get to taste the wines made from the rejected fruit."
WECO started doing trials of the optical sorter in the wine industry in 2010 and has made a number of changes to the design and function. In 2014, the company introduced a new camera system that improved performance dramatically.
"We design our machines from the ground up, including the circuit boards and our own custom software, and all machines are built in Woodland, Calif.," said Don Douglas, president of WECO. "We have been able to leverage our extensive experience in other industries to provide a machine to the wine industry that is compact, easy to use and easy to clean. We are excited about the opportunity to serve the wine industry."
Sorting experiments benefit the wine industry
Winemaker Chik believes that how sorting experiments benefit the wine industry is the million
dollar question. "Many wineries make excellent wines with fruit that is not sorted.  As a result there are believers and non-believers in sorting. But one thing is for sure, that for the believers in sorting, an automated sorting machine can work faster and more efficiently than a group on the sorting table.  We are currently using the WECO sorter to experimentally quantify the differences between sorted and non-sorted fruit."
WECO's Wine Grape Sorter uses the latest ChromaxHD optical sorting technology and advanced algorithms to efficiently remove under- and over-ripe fruit and foreign material (MOG). This offers vastly improved quality with increased throughput at a fraction of the price of alternative methods. Our system is also designed to be easy to understand and operate, employing intuitive controls and a touch-screen interface refined over the last thirty years. Automation through the WECO's Wine Grape Sorter can provide tremendous gains in productivity and labor efficiency.
Lab space vs classroom work vs wine making facility
The campus at UC Davis offers three state of the art academic buildings, a LEED Platinum Teaching and Research Winery, a thirteen acre teaching vineyard and several off campus attributes such as an Agricultural Research and Extension Center in Napa and several other vineyards for student use.
When asked what his students are doing on a daily basis Chik commented, "We are a teaching and research facility.  Our students engage in classroom studies and are then able to work in the winery performing all tasks related to grape processing and wine.  With respect to research, we employ precision winemaking techniques in order to control for variables.  We are currently doing research projects on grapevine disease effects on finished wines, grape sorting (WECO), vineyard canopy light penetration and its effect on wine, and a multi-vineyard site with Pinot noir grapes."
Based in California, WECO has been designing, manufacturing and servicing electronic sorters for over 30 years and has thousands of units deployed worldwide. The company serves several industries including tomato, walnut, blueberry, cranberry and wine grape. Learn more at https://wecotek.com.
Learn more about UC Davis wine-related research, education and industry partnerships at http://wineserver.ucdavis.edu
Contacts:
Eric Horner, WECO Sorting and Automation Solutions, 425-802-3313, eric@wecotek.com
---