WECO AND MULTISCAN TECHNOLOGIES FORM STRATEGIC PARTNERSHIP IN NORTH AMERICA
---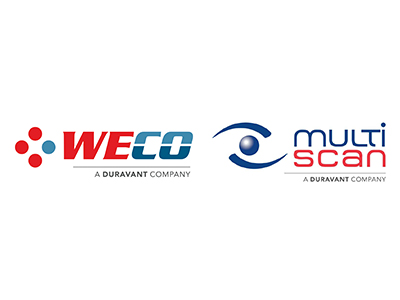 WECO and Multiscan Technologies ("Multiscan"), both members of the Duravant family of operating companies, announce they have entered into a strategic partnership to support nut, fruit and vegetable packers and processors across the United States, Canada and Mexico. In these regions, the WECO sales and service organization is now selling, leasing and supporting Multiscan's optical sorters and other inspection equipment including turnkey solutions.
"Bringing two leading suppliers together in this way provides enormous value to both WECO and Multiscan customers," said Don Douglas, President of WECO. "With the addition of Multiscan's technology to WECO's portfolio, we're able to deliver even more sorting and pre-sorting solutions that address a broader range of turnkey line layouts and capacity requirements. And with WECO's industry-leading sales and service network, Multiscan's North American customers can receive the highest level of support to maximize uptime and improve efficiency of their operations. It's a huge win all around."
Multiscan machine vision systems complement existing WECO sorting and moisture monitoring technologies for a variety of in-shell nut products to help customers manage product quality, improve yield, increase line throughput and reduce labor requirements. In addition, Multiscan's industry-leading solutions for the avocado, cherry, citrus, olive, pomegranate and fresh tomato markets will now benefit from WECO's leasing program and extensive service organization.
WECO's customer service organization provides installation and start-up services, preventive maintenance, technology upgrades, and 24/7 emergency assistance. "Our program connects customers immediately to local service technicians with in-depth knowledge of their operation, not a remote call center," said Douglas. "Just as important, technicians are always equipped to immediately fix issues on the spot. In a business where unplanned downtime is so costly, this is big differentiator."
For more information about Multiscan, visit www.multiscan.eu. For more information about WECO, visit www.wecotek.com.
About WECO
WECO (Woodside Electronics Corporation), based in Woodland, California, has been designing, manufacturing and servicing electronic sorters for over thirty years and has thousands of units deployed worldwide. WECO serves several industries including tomatoes, walnuts, blueberries, pecans and wine grapes. WECO has multiple locations throughout the United States with offices in Michigan, Oregon, New Mexico and Georgia. WECO's footprint extends into South America with a local entity in Chile. For more information, visit www.wecotek.com.
About Multiscan Technologies
Multiscan Technologies develops and manufactures equipment with vision technology for the sorting and inspection of fruits, vegetables and other food produce. Multiscan is a visionary company, passionate about the development and application of equipment and systems solutions based on vision technologies for the agribusiness, with a focus on a unique 360º product analysis. With more than 25 years of experience, Multiscan delivers differential solutions for the sorting and inspection of agrifood products driven by a value proposition based on four key concepts: Customer, Innovation, Global Reach and Sustainability. For more information, visit www.multiscan.eu.
About Duravant
Headquartered in Downers Grove, IL, Duravant is a global engineered equipment company with manufacturing, sales and service facilities throughout North America, Europe and Asia. Through their portfolio of operating companies, Duravant delivers trusted end-to-end process solutions for customers and partners through engineering and integration expertise, project management and operational excellence. With worldwide sales distribution and service networks, they provide immediate and lifetime aftermarket support to all the markets they serve in the food processing, packaging and material handling sectors. Duravant's market-leading brands are synonymous with innovation, durability and reliability. For more information, visit www.duravant.com.
---